Hello gang, and welcome to this website. On this website, you will find stuff that is good. Everyday, there will be a new, shiney picture that I took with my camera, and some words that will coincide with the picture. Do you like chicken? Well get some chicken, sit down in front of your computer, and browse through "Photo Essays", because you never know if some activists or whatever are gonna shut it down or whatever it is that they love to do so much. If you don't like the page then you are probably having troubles or hurts or sadness in your life or woes, so I am sorry 'bout that.
here are links to good pages:

Photo Essays
"they free"

10.10.99 "Mom, Dad Twirling lessons paid off!!!"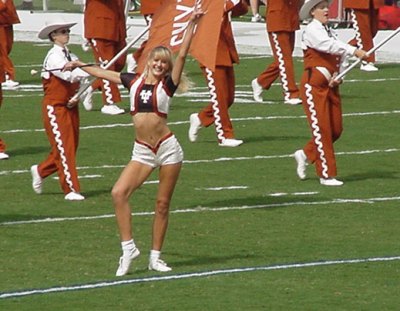 Hi Mom! Hi Dad!!! Hi Woofie!!! how are you guys dooooin??? Just thought I'd write ya' 'n say how much everyone is loooving my twirling here at the university college ballgames!!! I get to wear the cutest little outfit and a lot of times these guys wearing funny Greek symbols on their shirts and hats with the bills bent always say cute things to me about my boobies!!! tee-hee, isnt that fun! anyway, everyone here likes me a whole lot and thinks that my outfit is really cute and that i should not wear the bottoms but i tell them that we have to because it is part of our uniform!!! tee hee!!! Everyone really likes my outfit a lot! when i come home, ill show it to you guys, im having fun at college, wish you were here!!!

love,
Giggles